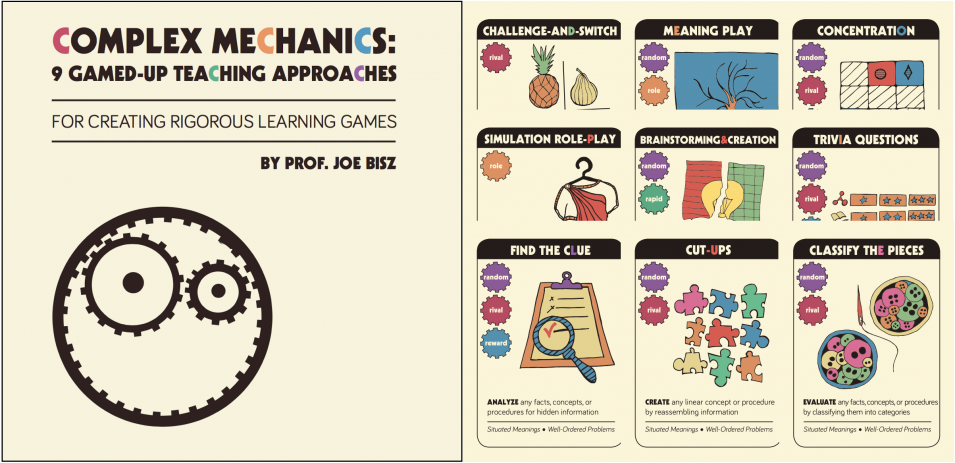 My Complex Mechanics: 9 Gamed-up Teaching Approaches is my second card game that teaches game design. It is a little more advanced than What's Your Game Plan?. Some of you were lucky enough to pick up early releases of this game at the Revolutionary Learning Conference in NYC. Others may have picked up some of these Complex Mechanic cards as part of my "Conference Trading Cards" icebreaker; if you did, know that these cards are part of a larger game that teaches game design, which is the game I'm describing here.
Description

One of the biggest challenges for educators and training managers is to create meaningful exercises, which means exercises that give their learners both deep learning and engagement.
Complex Mechanics: 9 Gamed-up Teaching Approaches presents you with 9 teaching templates that gamify any of your existing instructional exercises, whether for the classroom or workplace. All templates are academically grounded: classified by Bloom's taxonomy, deep learning principles, and engagement mechanics. After a thorough "pre-game" where you study the templates, you are walked through a brainstorming game, where you will design your own non-digital learning game!
"Complex Mechanics" can be used as a stand-alone game, or together with "What's Your Game Plan?" as an expansion.
Ordering the Game
Order the game for $20 from DriveThru Cards by clicking here. When ordering, be sure to select the option to "Add Tuckbox" (else your cards will not have a box!) You'll need to download the instructions directly from my webpage below.

Instructions
If you lost your copy of the game rules, or you simply want to read more about the game before buying it, download them here. (Once printed, you can trim your instructions if you want them to fit more tightly in the game box, or you can leave them as-is.)
Extra Components (Optional)
CARD SLEEVES: Protect your cards from the friction of constant use. These hard sleeves (sometimes called "premium") are almost like a laminate coating, except they're removable. Click here to see how you can order a pack of 50 sleeves.