For innovative Educators (all levels), Presenters, Training Managers,
and Designers (instructional, content, or game)
Hi! I'm Joe, the creator of What's Your Game Plan? , the game that teaches teachers!
LOOKING for an innovative way to spice up your teaching?
Let's say you're giving a research lesson on how to find citations. Can you guess what your lesson "Finding Citations," the game "Trivial Pursuit," and the mechanic "Bluffing" all have in common?
WHAT'S YOUR GAME PLAN? is a brainstorming card game that works by the power of group collaboration. Your task is to enhance a traditional lesson with the mechanics of popular board games in only 20 minutes. If you're an educator or training manager, this game teaches you how to integrate quick educational games of your own design into the classroom or workplace. If you're a game designer or presenter, you can generate interactive approaches for any new game or concept.
Ordering the Game

WHAT'S YOUR GAME PLAN? (the original game)
Buy the original full base game for $20 from thegamecrafter.com. (This is the most current version called "Updated First Edition," released July 2015.)
MATH LESSON EXPANSION
This is a set of 9 new Math Lesson cards designed to be used with the base game What's Your Game Plan?. The Math Lesson Expansion is suitable for lessons taught in elementary through graduate school. If you are a Math teacher or curriculum director at any level—or a parent, content designer, or game designer interested in creating educational Math games—this expansion is a good choice for you. If you already own the original base game What's Your Game Plan?, and you'd like just the new Math expansion cards, purchase them for $6 from thegamecrafter.com. If you do NOT have the original base game yet, you can purchase the base game plus this Math Lesson Expansion together (at a discount) for $25 from thegamecrafter.com.
CONVERSION DECK (for Updated 1st Edition)
What's Your Game Plan? has come a long way since it was first designed. Did you already purchase What's Your Game Plan? in the past, before July 2015? If so, you should know that I changed 15 cards from the very first edition, which included adding definitions for all "Action" cards. If you'd like to convert your old cards to the new updated edition, you can buy the special "conversion deck" here for $2.99 from thegamecrafter.com, which gives you just the 15 updated cards. I'm selling this deck at cost because I want everyone to have the most recent, best versions of these cards. (If you're not sure what edition you have, or to see the most recent cards, download this document.)
Ordering Extra Components

You and your What's Your Game Plan? will look even better with these fancy components!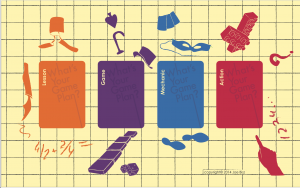 PLAY MATS: Some people have noticed that the small WYGP? cards can get a little lost on a busy table. These professionally-designed play mats hold the cards and inspire brainstorms. The minimum order is 6 mats for $90. Click here to see a full price list and how to order. (Mats are 14 x 8.5 inches and printed on 14pt. card stock.) 
CARD SLEEVES: Protect your cards from the friction of constant use. These hard sleeves (sometimes called "premium") are almost like a laminate coating, except they're removable. Click here to see how you can order a pack of 50 sleeves.
Instructions
Game Rules: If you lost your copy of the game rules, or you simply want to read more about the game before buying it, download them here.
Extra Resources for Facilitators: If you are a facilitator looking to run this game with multiple groups (i.e. more than 6 people), download my special documents "WYGP? Facilitator Notes" and "Example Card Draw".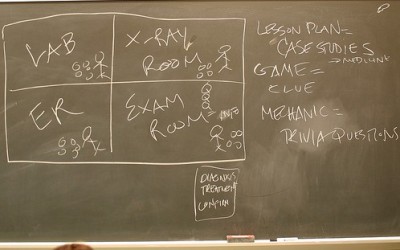 Example Game: Case Studies Hospital
A group of four teachers accepted their mission: to create a game that would overview the skills and procedures needed to work in a hospital. Click here to see a description of the game. (Note: The final game was more developed; this is merely the initial outline.)
Critical Reception of the Game
Teachers, administrators, and game designers: they're all excited about using WHAT'S YOUR GAME PLAN?  Read more about the game's reception at events, including feedback from audience members.